Our blog posts may include affiliate links. These affiliate links don't cost you anything, but we might earn a few Euros if you decide to purchase something from one of our recommended website partners. Thank you for your support to help keep this platform up and running!
For once, we leave the trendy cafés and coffee shops apart and share with you the addresses where you can find the best tea shops in Düsseldorf.
When you think about popular drinks in Germany, beer and coffee come to mind first. But, tea lovers should not fret, the healthy drink has a strong presence in German culture as well, just a more discreet one.
From the much needed herbal teas in winter to Turkish tea, or the much-hyped Boba tea for hotter days, Düsseldorf has it all. And I've gathered all the wonderful spots in the city where tea lovers can enjoy a piping hot cup of tea while sitting back and brushing up on their German or catching up with friends.
Anmo Cha/Art is a half art gallery and half tea shop, it has nothing surprising since tea ceremonies have always been considered an art in itself in Asian culture. They sell a variety of Japanese and Chinese tea, which you do not have to be an expert in to discover, as you can learn everything you need to know from the friendly owner.
Their beautiful ceramic teapots would make you want to host your elegant tea ceremony at home.
The place is a popular hangout spot for the young crowd. In winter like in summer, they sip their "Boba" tea through a pipe-like straw. Boba Tea (or Bubble Tea) might be trending now in Düsseldorf's Japanese quarter, but it was already popular in the 1980s in Taiwan. You can either choose a base of Green or Black Tea, then you decide whether you want it with milk or not. What makes a Boba Tea a Boba Tea is the tapioca balls they add as toppings. You can have other exotic toppings such as lychee or strawberry, or in winter have it served hot instead of cold.
Teamate has another location in the Altstadt which has recently opened.
Herbal & Fruit Teas: TeeKontor
Maybe the most popular types of tea in Germany are those herbal and fruit-based ones which are very comforting on a cold winter evening. TeeKontor has an infinite mix of herbal and fruit teas, most of them with healthy and exotic additions such as lemongrass, mint, or even spices. Since there are so many options to choose from, you end up not knowing which one to choose, the staff is very helpful and patient in showing you the different flavours.
TeeKontor is also the perfect place to find a thoughtful gift for a tea-drinking friend as they have beautiful teapots and cups.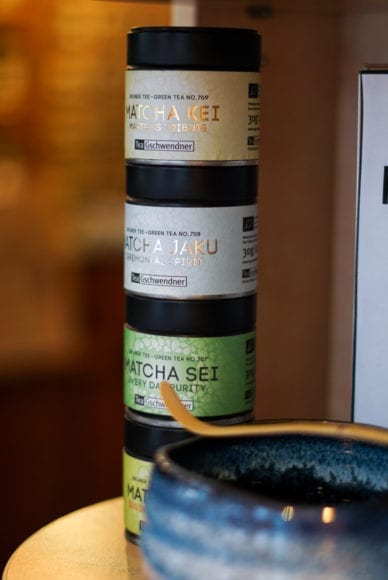 The passion of TeeGshwendner for tea cannot go unnoticed when you see how focused they are on the quality of their products. They have a selection of tea from both the most popular and lesser-known cultivations around the world. In between South African Rooibos tea or Japanese Green tea, you even get to choose in between distinct grades and flushes, since every tea is not grown and processed equally.
The popular Japanese Matcha, Sencha or Gyokuro are there as well.
TeeGshwendner is the right address to discover another level of satisfaction related to brewing qualitative and carefully sourced teas since most of their selection is certified organic ones.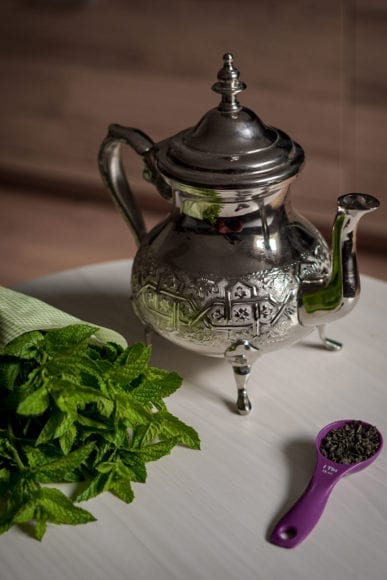 Mint Tea is the staple drink of Morocco, and once you have tasted this delicately brewed and elegantly served tea, you will never settle for a pre-packed mint tea bag again. Nador Markt has everything you need to prepare such as tea at home, from the fresh mint leaves to the gunpowder green tea, and even the accompanying Moroccan sweets.
Moroccan mint tea can be served at any time of the day, try to pull the silver teapot as high as you can when serving – exactly like in Morocco!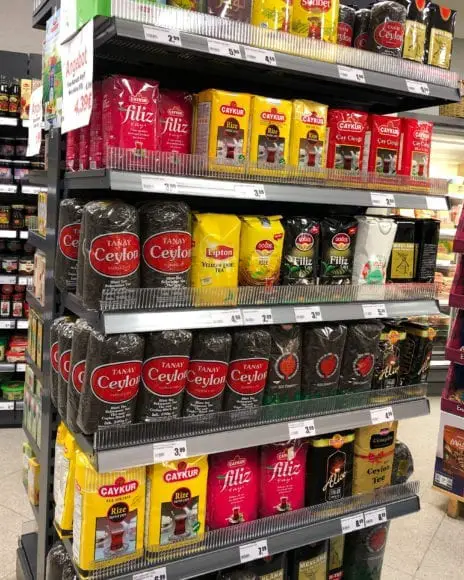 Turkey is yet another country where tea is as popular as coffee, and since Germany has a large Turkish diaspora, we get to share their delicious food and beverages. Turkish tea is made out of black tea, a very strong brew at first, and then mixed with water whilst serving.
Onur Supermarkt has the most popular Turkish tea brands such as Doğuş and Çaykur, the two-pieced Turkish teapot needed for infusion and the small tea glasses for serving. Grab yourself some soft Simit, the famous Turkish bagel-like snack to go with your tea.
Damla Baklaverei is another spot if you just want to enjoy a glass of Turkish tea without the hassle of making it yourself.
Where else in the world is the tea-drinking cliché as strong as their tea other than the United Kingdom? Nothing beats a good old cuppa of black tea with milk, British style! Kashmir Store is where you stock up on your enormous (800 teabags is never too much) PG Tips boxes.
To bring some variety to your tea game, get a packet of "chai masala" to make an Indian spiced tea.
I am a big fan of Yorkshire Tea, another popular brand in the UK, if anyone knows who sells them in Düsseldorf, let us know.
If the Russian Samovar is such a famous instrument, it is definitely due to its original purpose of tea brewing. These days electric kettles have replaced the traditional samovars but tea is still prominent in Russian culture. The popular Continent Supermarket, which stocks all the staples of East Europe and Russian cuisine has a whole selection of the most beloved brands of the region, including Ahmad Tea or Lipton.
Herbal Tea for Kids: DM
Parents would know the struggle of over-active toddlers and never-ending give-and-take games to get them to bed. Well, Germans have a special trick to ease this up: calming herbal teas for kids. Fennel and chamomile are famous for their soothing and calming effects, which you can find in the different DM stores around the city.
Various Locations | Facebook | Instagram
Along with its delicious cakes, Café Huftgold serves maybe one of the best Chai Lattes in Düsseldorf. Next time you are there, swap your café latte for this rich and full-flavored tea drink.
Teekanne, one of the oldest and most famous German tea brands has a facility in Düsseldorf itself and you can even visit their factory shop.
Do you know about any other tea spot in Düsseldorf which we should share with our readers? Let us know in the comments.
If you are looking for something else from back home that you cannot find at the usual supermarket chains, check our list of International Grocery Stores in Düsseldorf.