Our blog posts may include affiliate links. These affiliate links don't cost you anything, but we might earn a few Euros if you decide to purchase something from one of our recommended website partners. Thank you for your support to help keep this platform up and running!
Aloha Poke is one of the newest hipster restaurants making up the cool factor for Unterbilk. Since last summer, this Hawaiian inspired restaurant brings us the latest trend of healthy eating: poke bowls! And they also offer delivery!
"Poké" means "to cut in bite-sized pieces" in the local Hawaiian language, and this is exactly how the local fishermen used to eat their freshly caught fish. To make it more interesting, other ingredients such as seaweeds, soy sauce, or nuts were added.
The Hawaiian specialty served today, as a colorful bowl with different toppings, became popular on the Californian coast before taking over the world. It is always amazing to witness food trends traveling from one end of the world to the other.
This post was graciously sponsored by Aloha Poke.
Was hattest du gerne?
Please do not feel offended if the staff of Aloha Poke uses the informal German "DU" to address you. It is all part of the chill and friendly atmosphere created to make you feel at home. As soon as you enter the place, they are eager to explain how the concept works and help you to build your own bowl. Considering how many ingredients there are, I was happy that they were in no rush in explaining all the different possibilities. In fact, I heard there are 4 million different bowl-possibilities.
How to build a Poke Bowl:
Building your bowl at Aloha Poke is easy and fun. Here is what goes in a bowl:
Base: Choose between Wild Rice or White Rice and some green salad if you fancy
Protein: Ahi Tuna, sushi-grade quality tuna is the original Hawaiian way. You also have a choice of Salmon, Truthahn (Turkey), Tofu or Shrimps
Toppings: Here is where it gets colorful – mango, avocado, and edamame are the most chosen ingredients but you have a wider choice of fruits and vegetables
Sauces: Peanut-Coriander, Orange-Honey-Mustard or White Peach-Wasabi are far from being boring sauces
Happy Ending: To make you even happier you get to choose 3 more garnishes to add a finishing touch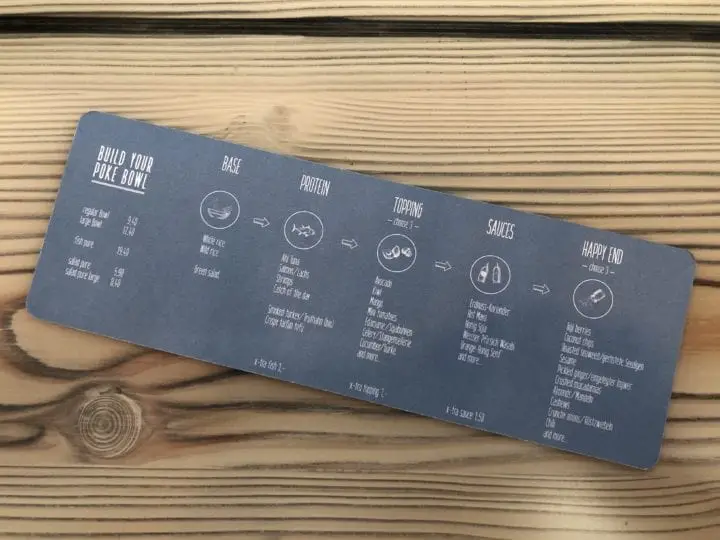 All the ingredients offered are semi-seasonal, meaning only high-quality ingredients make it to the table. I was told some favorites such as the avocado or mango are ensured to be available at all times.
Depending on the ingredients you choose, you can create a vegan, a lactose-free, or a gluten-free bowl.
Now, if you are afraid of being spoilt for choice, you can go for the house bowls which feature Aloha Poke's own suggestion of ingredients.
Umami in a Bowl
I was at first a little bit skeptical about how my own mix of different ingredients would come together. I was pleasantly surprised that everything was perfectly balanced. The combination of crunchy toppings and soft rice gave an amazing texture. It is probably the most inventive sauce binding everything together that creates the umami taste.
This whole experience could have been described as eating a big bowl of deconstructed sushi, but then it would not do justice to all the intricate flavors layered in between the fresh fruits and other toppings.
I had a freshly opened coconut to go with my bowl. With the blue walls, sunset tones, and background music, it felt like I was in a beach shack, only the sand beneath my feet was missing.
Poke is considered street food, but it is neither the junk food type nor the bland and porridge-like style of healthy food we are used to. It is comforting to live in a time when healthy food looks good and tastes good!
With its beach atmosphere and comfy outdoor seating, one could easily imagine spending an afternoon here slowly enjoying a poke bowl with some exotic drinks. It turns out poke bowls can be easily taken on the go as well. It is also wonderful to know they use sustainable bamboo boxes instead of plastic.
Whether it is for a lunch spot or dinner plans, Aloha Poke, with its new concept will pleasantly surprise your palates. Let us know in the comments how was your first poke experience and what toppings combo you went for.
Additional Information
Address: Friedenstraße 65, 40219, Düsseldorf
Opening Hours:
Monday to Saturday: 11 am –  10 pm
Sunday: 1 pm – 9 pm
Website | Facebook | Instagram
Did you try Aloha Poke and want to discover more healthy restaurants? Read our list of best restaurants to satisfy your healthy cravings in Düsseldorf.