Our blog posts may include affiliate links. These affiliate links don't cost you anything, but we might earn a few Euros if you decide to purchase something from one of our recommended website partners. Thank you for your support to help keep this platform up and running!
I don't know about you, but Düsseldorf's location close to the German winelands was most definitely one of the top-selling points for me to move here from halfway around the world! One of my favourite things about it is that it's not in any way commercial or overrated – in fact, I think there is much more to discover than what people realize. 
If you're a fellow vino and you're new to Düsseldorf and the surrounding region, I've got you covered with 5 of my favourite wine experiences and day trips within driving distance!
Vineyard views, mouthwatering flammkuchen, unique outdoor dining, and an extensive wine list of over 40 wines – these are just a few reasons why Kloster Weingut Marienthal is worth a visit. 
Situated in the Ahr valley, this winery offers one of the most distinctive wine appreciation experiences within the ruins of a centuries-old monastery. Their vinothek and restaurant sell and serve a wide variety of iconic wines from the region, of which Blanc de Noir (especially the one from Mayschoß) is my absolute favourite. You can opt for a wine tasting in the shop, or laze the whole afternoon away in their scenic courtyard with a pretty picturesque vineyard view. I highly recommend ordering wine by the glass if you'd like to try a variety, or just skip all that and go straight for that Blanc de Noir – I promise you won't be disappointed! 
Pair your wine with a charcuterie board or one of their famous flammkuchen, which often features local flavours like Eifeler Wildschweinschinken or Ahrtaler Barrique-Rauchfleisch. They also host events in their courtyard, so keep an eye on their calendar!
The town of Boppard lies on the upper Middle Rhine (also a stunning tour to go on for those of you who love castles)– a region often featured in classic literature and local legends. Just north of the town itself, the Rhine makes its biggest bend, giving the town a scenic setting among steep vineyards. 
The town is also known for its ice wine, which is made from late-harvest grapes left on the vine until it snows and is frozen before it is picked and pressed. My recommended spot for wine tasting is Vineum – a family-owned wine shop in the town centre that stocks 250+ wines including the best wines from the Middle-Rhine region and beyond. You can choose from several wine tasting options and they're all available in English and Spanish too. It's the perfect activity for a lazy afternoon before you head out to dinner.
Besides wine tasting, Boppard has beautiful hiking trails and a cable car that gives you panoramic views of the town, Rhein, and surrounding vineyards. Head to Komoot to choose the ideal trail depending on how active you want to be. For a short but rewarding one, I recommend this one which gives you a stunning view of the town, leads you to the famous "Vierseenblick", a beer garden at the top to reward yourself for your hard work, and finally the cable car which I mentioned earlier to take you down the mountain along the scenic route.
Federweißer & Zwiebelkuchen in Ahrweiler
In the heart of Germany's red wine route, you'll find the postcard-pretty town of Ahrweiler. One of the region's most popular specialties at the beginning of harvest season in fall is Federweißer and Zwiebelkuchen. 
Federweißer (or Federroter if you're referring to red wine) is often described as a teenaging wine that just started fermenting and therefore has a cloudy but refreshing and light character, and Zwiebelkuchen directly translates as onion cake – trust me, it tastes better than it sounds! You'll find this combo at pretty much any restaurant in the region, but I recommend Ahrweiler as it has the best variety of restaurants and wine shops to choose from. 
There is no better way to celebrate the start of the harvest season in the winelands than enjoying this iconic duo while people watching from a charming terrace in town!
As the gateway to the German winelands, and the location where the iconic Mosel Valley and Rhine rivers meet, Koblenz is a must for any wine lover. The city is surrounded by vineyards and castles, and the Old Town is dotted with wine bars and shops selling the best Rieslings from both the Rhine and Mosel regions. 
One experience you should reserve for a sunny day is a fully equipped wine picnic at Weinkeller Schwaab in the neighbourhood Güls – just across the river from the city centre. Your picnic includes a bottle of dry Riesling, charcuterie, cheese, and a few other delicacies all sourced from the surrounding region. You'll also be equipped with 2 original wine tasting glasses complete with the winery's logo, cutlery, napkins, a wooden picnic board, and a cute cooler bag to keep that Riesling chilled until you've found the perfect spot to enjoy your picnic. They recommend booking your picnic box a few days in advance, which you can conveniently do online here.
On a recent trip to Trier I discovered what has been one of my favourite wine-related experiences in Germany so far – wine tasting and winzer (vintner) tapas at Weingut Deutschherrenhof. 
TIP: You can easily pair a trip to Trier into a trip along the Mosel Valley – check out Life in Düsseldorf weekend getaway tips for the Mosel Valley
Besides a beautiful location in Germany's oldest town, this winery boasts a beautiful Manor House and garden that is transformed into a wine bar on Fridays and Saturdays. They offer a variety of regional dishes paired with selected house wines from flammkuchen to flame-grilled steaks. We decided to go for the tapas and wine tasting and we had zero regrets about our choice – the tapas included a drool-worthy selection of chorizo, Serrano ham, local cheese, plums wrapped in bacon, olives, bread and spreads and we were totally stuffed afterward. 
The price includes four wines which were all served and presented to us by the 6th generation owner and winemaker himself – Sebastian Oberbillig. That was an experience in itself as he shared the story behind his family's vineyard and each wine we tasted. We walked away feeling that we got great value for money from such a memorable evening and we're already planning to go back again someday. You can check out which tastings and other experiences they offer here.
---
I'm well aware that the German winelands are full of hidden gems still to be discovered and I'm making it my mission to find the best wine experiences out there. Do you have a favourite one that I haven't included here? Let me know in the comments!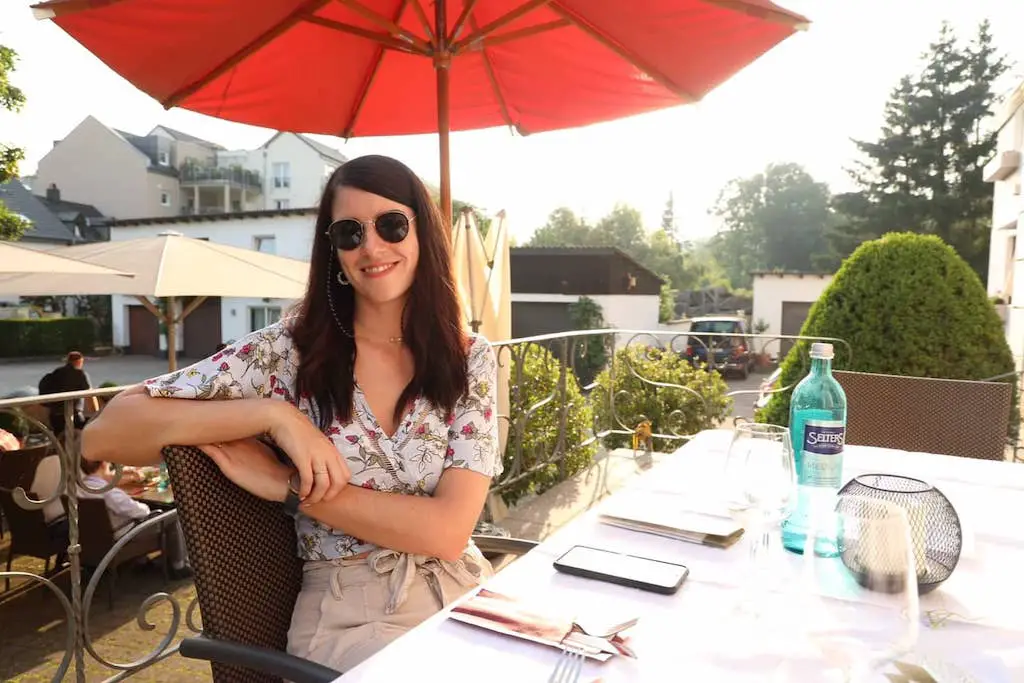 Written by The Wandering Wolf