Our blog posts may include affiliate links. These affiliate links don't cost you anything, but we might earn a few Euros if you decide to purchase something from one of our recommended website partners. Thank you for your support to help keep this platform up and running!
If you enjoy nature and are often on the hunt for places to wind down and reflect after a long day at work, Schlosspark Benrath is the place to be.
This serene place is an oasis for those who want to generate fresh ideas and simply breathe in a bit of fresh air while taking in the beauty of the Benrath Palace. Schlosspark Benrath is located in the South of Düsseldorf and can be easily accessed by taking the U71 or U83 tram line (Stop: Schloss Benrath). 
If you're keen on learning a little more about Schlosspark Benrath and its greenery, let me take you on a little visual journey.
The history of Schloss Benrath
The Benrath Palace (Schloss Benrath) began its construction in 1755, for the Elector, Charles Theodor and his wife Elisabeth Auguste. The palace buildings are partially surrounded by two ponds, one circular pond can be found in front of the main building and the second pond can be found on the south side of the palace and is a long rectangular shape.
The park, which also borders the Rhine river embankment, was designed by Nicolas de Pigage, who became the Head-Gardener in 1762 for the palace grounds.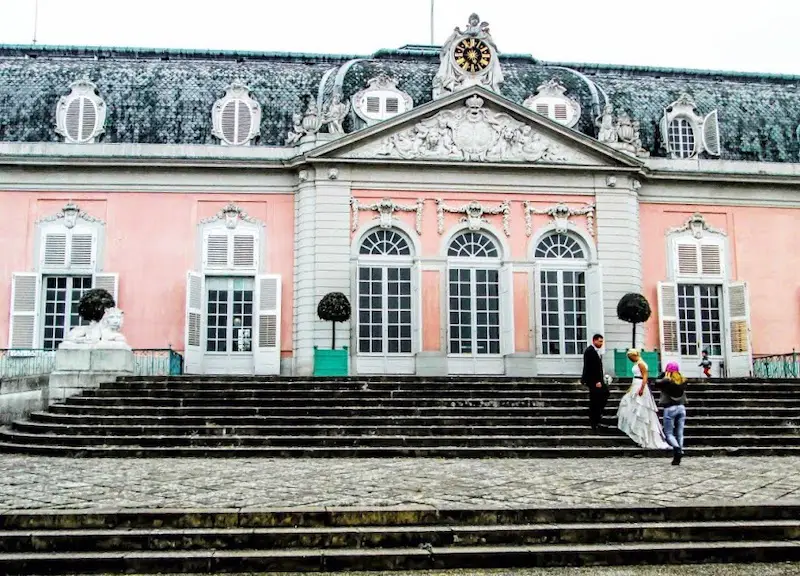 The nature around Schlosspark Benrath
The focus of this article is not to highlight the palace in particular, but to explain the beauty of the park surrounding the Benrath Palace.
The park, which I consider to be more of a green garden/oasis, is gorgeous and covers 61 hectares of land. The garden is home to over 80 species of birds and more than 300 species of beetles. 
The garden also has a special agronomy section, where you can watch crops being planted and study the science and technology of the growing crops. Popular crops in the Schlosspark Benrath include tomatoes, corn, cucumber, beets, onions, and more. Therefore, this can also be a great place for agriculture students to take practical excursions and learn more about crop production and how to prepare a backyard garden. 
Entrance into the garden is free and there are places around the garden to take a rest if you're ready to sit back and relax. The place is very quiet and great for reading. If you are someone who likes to reflect on your work, your vision, your relationship, and your presence in Düsseldorf, then this is one of the best places to be. As you may tell, I am passionate about nature reflection as it helps to give you a physical and mental boost. Schlosspark Benrath is my ideal place for reflection and meditation. 
To give you a better sense of what you may expect when you visit, I often enjoy going there to sit down, feel the distant breeze of the Rhine River, sip on a glass of freshly pressed juice, and stare into the reflections of the pond while I'm surrounded by beautiful gardens and the smell of blooming flowers.
SCHLOSS BENRATH LICHTERFEST: If you're interested in enjoying the nature by night, Schloss Benrath hosts an annual light festival (Lichterfest) where you listen to a Düsseldorf symphony, hang out with your friends, dine and wine, and watch the beautiful light show.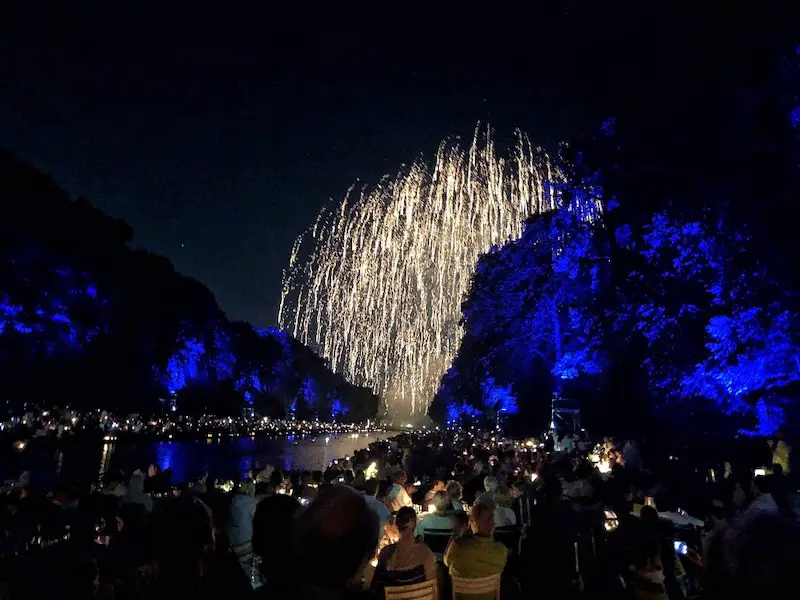 I definitely encourage all nature lovers and art lovers to visit the Schlosspark Benrath in Düsseldorf. You may also choose to visit the palace museum for an additional fee or perhaps even rent out one of the palace rooms for a celebration. They also offer a number of additional classes and courses for schools, youth, education programs, and families. 
NOTE: Due to COVID-19 the interior of the Benrath Palace is currently closed. You can however, still enter the palace grounds. Cancel those gym memberships and get some excercise in at Schlosspark Benrath!
If you're interested in learning about other natural spots around the city, you might like these reads: